Building Confidence and Parenting Skills When Your Baby Is in the NICU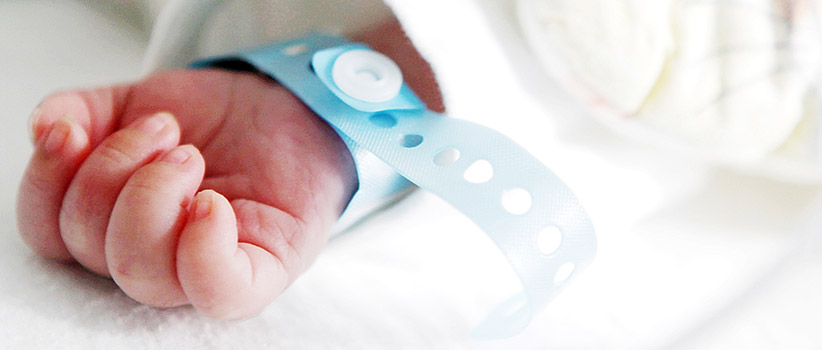 Having a child in the neonatal intensive care unit (NICU) can be a frightening or overwhelming experience for parents. As your newborn receives lifegiving support from NICU equipment and trained professionals, you may struggle to step into your role as parent or feel fearful, helpless or uncertain.
Understanding the inner workings of the NICU and connecting with the support available to families can help you gain confidence, find ways to participate and become an advocate for yourself and your baby. Learn more through the resources below.
Tips for Parents on Building Caregiving Skills With a NICU Baby
Understand your rights as the parent, including what you can ask for and expect during your baby's stay; the NICU Baby's Bill of Rights can be a useful resource.
Practice providing routine care for your baby, including changing clothes and giving baths; let your neonatal nurse practitioner or other provider know if and when you are ready to learn these skills.
Take care of your baby's laundry if time allows; some parents say taking their baby's clothes home to wash and bring back to the NICU helps them feel more involved.
Be present for feeding and bath times when possible, and collaborate with your nurse on participating.
Reach out to the lactation consultant if available at your hospital to create a plan for feeding your baby at home.
Choose the pediatrician who will help care for your baby after the NICU.
Notify your insurance provider to add your baby onto your policy.
COMMON TERMS TO KNOW IN THE NICU
Common Terms | Nationwide Children's: Glossary of NICU-related terms organized alphabetically covering NICU equipment, procedures and health indicators.
Glossary of NICU Terms for Parents | National Perinatal Association (PDF, 568.65 KB): Glossary of neonatal terms organized by category, including the NICU team and medications used in the NICU.
Premature Birth: Diagnosis & Treatment | Mayo Clinic: An explanation of tests given to premature babies and treatment options available, including surgery, medication and specialized supportive care.
NICU Staff | March of Dimes: Descriptions of 29 types of staff members who may work in your hospital's NICU and their roles.
GAINING CONFIDENCE IN THE NICU
Support Resources for NICU Parents and Loved Ones
FEEDING (NICU AND BREASTFEEDING, BOTTLE FEEDING AND FORMULA)
Breastfeeding | Office on Women's Health: A landing page for information on breastfeeding, including breastfeeding positions and guidance on pumping and storing milk.
Breastfeeding in the NICU: Advice from a Lactation Consultant | Hand to Hold: Practical advice for women breastfeeding premature babies and suggestions for loved ones to offer support.
Feeding Difficulties & Your Preemie | Hand to Hold: Information on feeding disorders and feeding therapy that a premature baby may need in their first days and months.
Feeding Your Baby After the NICU | March of Dimes: Answers to commonly asked questions about feeding preemies after a NICU stay, such as how to know when your baby is full and where to find support.
Feeding Your Baby in the NICU | March of Dimes: Description of feeding options for babies in the NICU, including breastfeeding, bottle, a feeding tube or intravenous line (IV).
Find a Lactation Consultant Directory | International Lactation Consultant Association: Online listings of board-certified lactation consultants and services offered, fees and medical coverage information.
How to Bottle Feed a Preemie | Verywell Family: Six tips for bottle feeding a premature baby, offered by a registered nurse in a tertiary-level NICU.
La Leche League Online Support Resources | LLLI: A landing page of breastfeeding resources available online for families around the world, including virtual support groups, publications and printable toolkits.
Nourishing Your Premature Baby in the NICU | Hand to Hold: An article from a neonatal registered dietitian on the feeding and growing processes unique to premature infants.
Practical Bottle Feeding Tips | American Academy of Pediatrics: Eight tips for safely and successfully bottle feeding an infant.
FINDING COMMUNITY AND SUPPORT
Blogs for NICU Parents | National Perinatal Association: List of blogs written by and for parents in the NICU.
For Our Families | Hand to Hold: A landing page of resources for families in the NICU that includes private Facebook communities, counseling services, bereavement support and information on requesting a peer mentor.
Four Ways Preemie Moms Can Say "No Thanks" to Visitors | Preemie Mom Camp: A blog post with advice on declining visitors in the NICU or at home, including sample scripts.
Get Help | La Leche League International (LLLI): Searchable map for finding a local support group with La Leche League, an international organization supporting breastfeeding mothers.
The MyPreemie App for Preemie Parents | Graham's Foundation: A free app to help parents organize their calendar, track their baby's progress and create a virtual baby book; available on the App Store and Google Play.
Where to Find Peer-to-Peer Support | National Perinatal Association: A list of organizations that connect families in the NICU or transitioning home with peers who can offer support.
AFTER THE NICU: GOING HOME
Home After the NICU | March of Dimes: Guidance for parents on the emotional experience of transitioning home, sleep safety, childcare and vaccinations.
Parents Corner: Information That Gives the Support You Need in the NICU | Baby First: Parents' stories on transitioning home from the NICU and information on what to expect after discharge.
Resources at Home | Nationwide Children's: A collection of articles on caring for your infant at home and knowing when to call a provider; topics range from burn prevention and infant cardiopulmonary resuscitation (CPR) to fever and fussiness.
Taking Your Preemie Home | KidsHealth: Advice for parents on preparing for discharge from the NICU, safety precautions to take once home and suggestions for self-care.
Transitioning Newborns from NICU to Home | Agency for Healthcare Research and Quality: Collection of fact sheets for families bringing a NICU baby home; topics covered include signs of illness, managing breathing problems, medication safety, immunization schedule and many more.
NICU AND INSURANCE
Affording the NICU: 6 Ways to Reduce the Cost | Hand to Hold: Description of financial safety nets available to help parents of premature babies pay for a NICU stay.
Get Help Paying Your Baby's Hospital Bills | Verywell Family: Information about the possible costs of a NICU visit for families with and without insurance.
Health Insurance for Your Family | March of Dimes: A guide to understanding health insurance coverage for children under the Affordable Care Act (ACA).
Insurance for Newborns: Four Lessons From $27,000 Bill | CoPatient: An article about one family's story with medical bills in the NICU and their suggestions for new parents navigating the NICU experience.
Paying for Your Baby's NICU Stay | March of Dimes: Guidance for parents on the NICU and insurance coverage and questions to ask your health insurance representative to learn more.
NICU CLOTHES FOR BABIES, SUPPLIES AND BLANKETS
The Best Preemie Clothes for Extra Tiny Babies | What to Expect: Suggestions for where to buy premature baby clothes and accessories that are both comfortable and affordable.
Knitting Tips and Patterns for Preemies | The Spruce Crafts: Guidelines for knitting items for NICU babies, including patterns for socks, caps and baby blankets.
Knots of Love NICU Blanket Patterns | Knots of Love: Crochet and knit patterns for baby blankets specially made for neonatal babies.
Navigating the NICU: What to Bring to the NICU (Printable Checklist) | UnityPoint Health: A packing list for the NICU including clothes for both parents and babies, bedding, toiletries, entertainment and other essentials.
NICU PARENTS' WELL-BEING
One in 10 New Dads Gets Postpartum Depression. Here's How to Spot It (and Stop It). | Men's Journal: An article on postpartum depression presenting in fathers and ways to offer support.
Postpartum Depression | Office on Women's Health: Resources on postpartum depression in mothers and common types of treatment.
Postpartum Skincare | Lucie's List: Recommendations for skincare after pregnancy and while breastfeeding, plus nursing-safe options.
Postpartum Support: Your New Life as a Parent | Lucie's List: Encouragement for new mothers in managing the transition into parenthood and finding professional support when needed.
Self-Care for Parents | Program for Early Parent Support: A list of ideas for parents to meet their own physical, emotional, social and intellectual needs.
Share Your Story | March of Dimes: A landing page for March of Dimes' blogs, forums and member groups that help parents make connections and find support.
Straight Talk | Lucie's List: A collection of articles on the challenges of parenting babies and young children, from breastfeeding and sleep regression to tantrums and going back to work.
Taking Care of You: Support for Caregivers | KidsHealth: Tips on recharging and reaching out for help for parents of children with a serious illness.
Your Mental Health and Well-Being Are Important! | National Perinatal Association: A screening questionnaire for postpartum mental health conditions and resources for help with anxiety, depression and post-traumatic stress disorder (PTSD), among others.
RETURNING TO WORK AND CHILDCARE
Daycare and the Prematurity Factor | Hand to Hold: A discussion of the benefits and drawbacks of different childcare options specifically for preemies.
Finding Child Care for Your Premature Baby | Verywell Family: A consideration of care options for premature babies, including a stay-at-home parent, family caregivers, nannies and au pairs, home childcare and daycare.
Finding Childcare for Your Preemie | Graham's Foundation: Advice for making childcare arrangements for preemies and their unique needs.
Going Back to Work After a Loss | Share: Ten practical suggestions to help grieving parents ease back into the workplace.
Going Back to Work After a Pregnancy Loss | Harvard Business Review: An article on the challenges that bereaved parents face in returning to work, with self-care strategies and advice for managers and colleagues.
Resources for Friends and Family
Loved ones can play an important role in helping NICU parents transition into their new roles. Read more in the resources below about supporting parents of neonatal infants during and after a NICU stay.
The resources in this article are for informational purposes only; individuals should consult with a licensed health care provider before taking action.
Last Updated: December 2020
< A Guide to Donating and Disposing of Unused Medicine
> Breaking the Stigma of the Male Nurse