Breaking the Stigma of the Male Nurse
Coming from a family of physicians, Michael Ward, vice president of the American Association for Men in Nursing, was interested in pursuing medicine. Instead of earning a bachelor's degree in a typical pre-med subject like biology, he thought nursing school could give him experience and an upper hand in applying to medical school. Instead, he found that nursing was a better career for him.
"The thing that I expected to find in medicine, I have found in nursing," Ward said. "I found that I was actually going to have more time with patients, and I was going to be able to be involved in taking care of people in a way that physicians are not really able to do."
Ward's initial oversight of the nursing profession is not uncommon. The current world of nursing is made up mostly of women, with men making up around 10% of the nursing workforce (licensed practical and licensed vocational nurses, registered nurses and nurse practitioners), according to the Bureau of Labor Statistics' (BLS) 2019 labor force data.
The lack of representation of men, along with other less represented populations in nursing, highlights an untapped resource that could help address the ongoing nursing shortage in health care. Breaking the stigma of men in nursing can help build out the workforce and improve the quality of care for patients.
How Many Male Nurses Are There?
While nursing started as a profession mostly held by men, the workforce began to shift in the 1800s through the influence of Florence Nightingale and her 1860 text, Notes on Nursing, prefaced with the assertion that "every woman is a nurse."
While the skill sets needed to be a nurse are not limited to one sex, the field of nursing continues to be dominated by women, and the stigma around men who choose the profession remains.
Shawn Rodgers, RN, BSN, works as an OR charge nurse in Denver, Colorado. While he feels comfortable in his role and when working with his team, he does get the occasional comment from other male health care workers.
"[They] ask, 'Why are you a nurse?' or 'Why didn't you go to medical school?'" Rodgers said.
Such questions may be spurred by a misunderstanding of the role nurses play in health care, as well as the lack of men in the profession. According to the Bureau of Labor Statistics' (BLS) 2019 labor force data, men made up the following percentages of the nursing workforce in 2019:
9%
Licensed practical and licensed vocational nurses
Ward said that male nurses tend to gravitate toward certain areas of practice, including critical care settings, such as the ICU and the emergency room. Rodgers agreed, adding that certain areas of practice see far less male nurses.
"When I went through nursing school, I encountered one male nurse in [the hospital's] massive OB unit," Rogers said.
Why Male Nurses Are Needed
According to Ward, there is a general need for the nursing profession to better mirror the population nurses serve. He emphasized not only the need for more men but also for more health care professionals from other underrepresented groups.
"Bringing men into nursing isn't just bringing white men into nursing—it's bringing Hispanic men into nursing, it's bringing Black men into nursing, it's bringing Asian men into nursing," Ward said. "We're bringing all these diverse populations into the nursing profession to improve care delivery and to be there for our patients."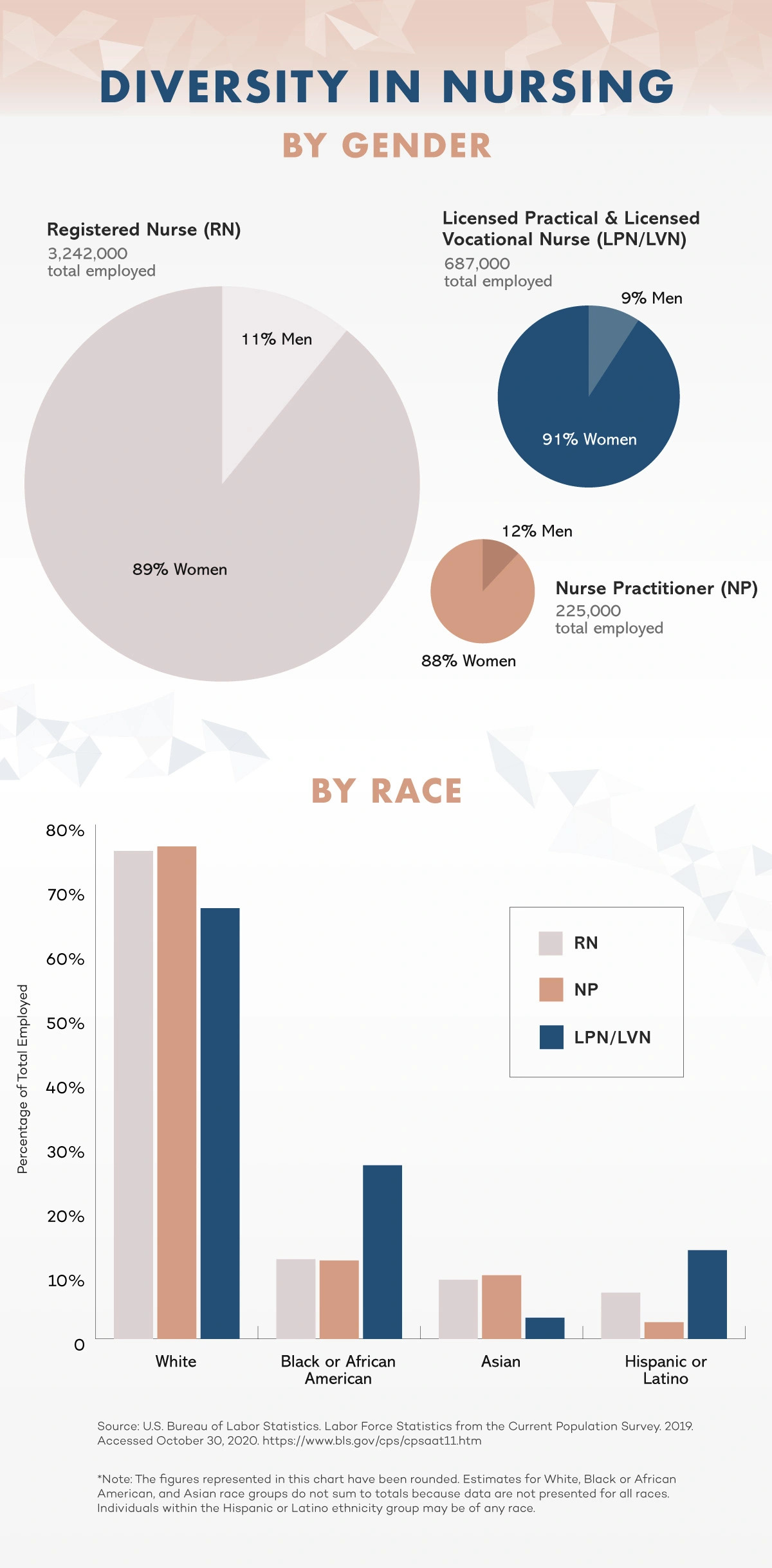 According to 2019 occupation data from the U.S. Bureau of Labor Statistics, women filled the majority of nursing positions; men made up 9% of LPNs and LVNs, 11% of RNs and 12% of NPs. The majority of nurses employed were white.
Go to a tabular version of Nursing Employment by Gender and Race at the bottom of this page.
Expanding the idea of who can or cannot be a nurse is also an opportunity to expand the pool of talent needed to fill the nursing shortage, Ward said.
According to the BLS, employment of registered nurses is projected to grow 7% from 2019 to 2029, while employment of nurse anesthetists, nurse midwives and nurse practitioners is expected to increase by 45%.
This increased need for nurses is largely due to the aging baby boomer population, paired with the impending retirement of many nurses currently in the field.
Misconceptions About Men in Nursing
What do you call a male nurse?
There is no gender-specific name or title for a male nurse. Women and men in the field of nursing are all called "nurse."
Can you refuse a male nurse?
Yes, nurses are typically willing to switch out patients to meet this type of request when it is possible, based on staffing.
Can I request a male nurse?
Male patients may feel more comfortable with a male nurse and can make this request. Being assigned a male nurse, however, may depend on staffing.
Can male nurses work with female patients?
Similar to how women in nursing treat male, female, nonbinary and intersex patients, so can male nurses.
The following section includes tabular data from the graphic in this post.
Nursing Employment by Gender and Race, 2019
| Demographic | RN | NP | LPN/LVN |
| --- | --- | --- | --- |
| Total employed | 3,242,000 | 225,000 | 687,000 |
| Women | 88.9% | 87.8% | 90.8% |
| Men | 11.1% | 12.2% | 9.2% |
| White | 75.9% | 76.6% | 67% |
| Black or African American | 12.4% | 12.2% | 27% |
| Asian | 9.2% | 9.9% | 3.3% |
| Hispanic or Latino | 7.2% | 2.6% | 13.8% |
Source: U.S. Bureau of Labor Statistics. Labor Force Statistics from the Current Population Survey. 2019. Accessed October 30, 2020. https://www.bls.gov/cps/cpsaat11.htm
< Building Confidence and Parenting Skills When Your Baby Is in the NICU
> Everything You Need to Know About Artificial Intelligence and Your Patient Data