Nurses In Private Practice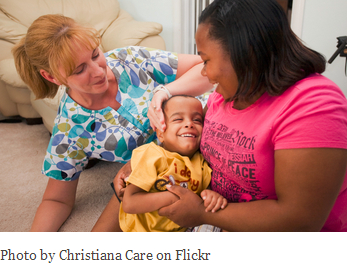 Nurse practitioners have career opportunities in a spectrum of health care settings – from direct patient care at a hospital to working collaboratively with specialty physicians in a clinic. Nurse Practitioners can also change their focus by starting their own private practice.
How is this setting different?
While scope of practice laws vary by state, all states do require that an Advanced Practice Registered Nurse work only in the specialty area in which he or she is certified. There is continued debate by lawmakers and physician groups about the independent role of the nurse practitioner (NP) in each state.
The average annual salary for an NP is $90,583, but NPs working in a private practice setting may make $100,000 a year or more. While a nurse practitioner in a hospital may be able to focus completely on patient education and care, private practice nurses must do that, and run the businesses' daily operations. Some sources recommend that factors essential to the success of a practice, including state licensure, hospital privilege negotiations, third-party reimbursement contracts and the business plan, should be started at least nine months before an NP accepts patients.
Requirements of working in private practice:
Look closely at your market and intended practice specialty and location before beginning.
Understand the requirements for physician oversight in your state, and, if applicable, locate a physician interested in developing the required relationship. Be familiar with the State Board of Nursing's requirements for the physician's role in overseeing private practice nurses.
Maintain your registered nurse license as well as your NP license.
Maintain your scope of practice, and know practice regulations for your state. For more information, visit the National Council of State Boards of Nursing.
To prescribe controlled substances, you must register with the Drug Enforcement Administration and your state board of nursing.
Negotiate hospital privileges.
Negotiate with insurance providers and clear third-party reimbursement contracts before opening your doors.
Find a mentor and ask questions.
Who makes this transition into private practice?
The decision to move into private practice could be for any NP if approached with an understanding of how that transition must be made and what it will ultimately entail. Opening a private practice cannot be done overnight, and building a successful practice is not necessarily easy. However, for those who persevere, there's a great benefit at the end of that road: quality care for patients — the reason most nurses enter the profession in the first place.