How to Promote Health Equity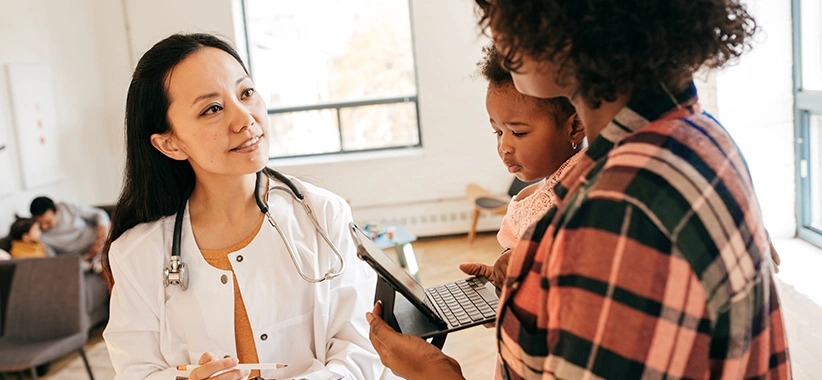 Each year, the Office of Minority Health reviews and discusses the reality that health, health care, and health equity are not a package deal for all Americans.
Minority health disparities in outcomes, care, and access persist, even in the United States' modern health care system. They affect individuals across many dimensions, including race and ethnicity, socioeconomic status, gender, and sexual orientation, among others, according to the Kaiser Family Foundation.
April is National Minority Health Month and serves as a call to action to change this reality. Those involved in American health care, from clinical providers to institutional leaders, are positioned to support everyone's health and promote health equity, defined by the Association of Public Health Nurses (PDF, 944 KB) as "an ideal state marked by fairness and achievement of optimal health and well-being for all populations, where disparities in health status are eliminated."
Keep reading to learn more about health equity and how individuals and organizations can work to reduce minority health disparities.
Who Is Affected by Health Disparities in the United States?
According to the United States Census Bureau, Minority Rights Group International, and the National Institutes of Health's Sexual & Gender Minority Research Office, health disparities affect:
Racial and ethnic minority population groups
Arab and other Middle Eastern Americans
Asian Americans
Black or African Americans
Hispanic or Latino
Native Americans
Native Hawai'ians and other Pacific Islanders
Sexual and gender minority populations, including those who identify as:
Lesbian
Gay
Bisexual
Asexual
Transgender
Two-spirit
Queer
Intersex
What Are Life Expectancies by Racial or Ethnic Population Group?
According to the Center for Disease Control's (CDC) report, "Life Expectancy at Birth, at 65 Years of Age, by Race and Sex: United States, Selected Years 1900–2007" (PDF, 58 KB) and the NCHS Data Brief, Number 355, January 2020, average life expectancies have increased by almost ten years over the past half century.
Average life expectancies in the United States:
The CDC's National Vital Statistics Reports' life expectancy tables (PDF, 2 MB) estimated the average life expectancy in years in the United States by race and Hispanic origin as:
What Are the Top Leading Causes of Death for Minorities?
What Are Social Determinants of Health?
Social determinants of health (SDOHs) are "the conditions in which people are born, grow, live, work and age that impact their health," as described in a 2018 report in The Online Journal of Issues in Nursing, Social Determinants of Health and Nursing Education. SDOHs drive and help explain individuals' health outcomes. In part, they can be considered among the causes of health disparities.
As elaborated by the Kaiser Family Foundation, factors that influence inequalities in health (or SDOHs) include:
Neighborhood and physical environment
Housing
Transportation
Safety
Parks
Playgrounds
Walkability
Zip code/geography
Education
Literacy
Language
Early childhood education
Vocational training
Higher education
Food
Hunger
Access to healthy food options
Community and social context
Social integration
Support systems
Community engagement
Discrimination
Stress
Health care system
Health coverage
Provider availability
Provider linguistic and cultural competency
Quality of care
Economic stability
Employment
Income
Debt
Expenses
Medical bills
How Do Social Determinants of Health Affect Individuals?
There is no consensus on which SDOHs are most important for improving health inequities. However, studies suggest that social and environmental factors and health behaviors (such as smoking, diet, and exercise) primarily shape an individual's well-being.
For example, a 2016 study suggested that living in a zip code with greater poverty was associated with high diabetes risk. Living in a zip code with a higher supermarket density was associated with "a reduction in high diabetes risk."
People with lower levels of education and income generally experience increased rates of mortality, morbidity, and risk-taking behaviors and decreased access to and quality of healthcare.
How to Achieve Health Equity: For Individuals
Learn about health disparities in your own community.
National Minority Health Month is an opportunity not only to learn how health disparities affect health care and delivery across the nation but also to understand how they play out in individual communities. As a starting point, research the health inequities and challenges facing your geographic area specifically. Three options include:
Encourage conversations about health equity.
Prioritizing health equity in conversation can help raise public consciousness about both local challenges and national concerns. Individuals, especially those in health or health-adjacent organizations, should bring up health disparities as a topic of conversation at every opportunity. Doing so can help connect more people and problem-solvers to these concerns and lead to collaboration to solve them.
Invest in scholarships intended for local students in minority groups.
Increasing the racial and ethnic diversity of health care providers, specifically in the nursing field, can help reduce health inequity, according to an article in Public Health Reports. Financially supporting the education of minority students in your community can help improve outcomes in the long run.
How to Achieve Health Equity: For Health Professionals
Providers: Shift toward a more "upstream" perspective.
It's important for care providers to understand how individuals' health behaviors are often shaped by their context and the conditions of their lives. Developing a holistic perspective can help providers work with patients to develop better-informed treatment plans and create goals that acknowledge an individual's current context and support system.
Clinics: Offer transportation to health care appointments.
Lack of transportation, one of the social determinants of health, is a major barrier to health care access in some communities. Some state Medicaid programs and other clinical groups have begun providing transportation for lower-income patients through ride-sharing apps.
Nursing Schools: Increase the number of minority care providers.
Consider how your administration can better serve students from minority groups. For example, the Health Resources and Services Administration offers the Nursing Workforce Diversity program, which supports individuals from disadvantaged backgrounds — including racial and ethnic minorities underrepresented in the nursing field — in becoming RNs. On the school side, the American Association of Colleges of Nursing offers training in holistic admissions, which prepares admissions officers to consider an applicant's experiences alongside traditional measures of achievement.
How to Achieve Health Equity: For Organizations and Communities
Build local, public-private partnerships.
Public organizations and private companies partnering together can support positive community outcomes by leaning on the other's expertise. For example, Made in Durham is a public-private partnership in Durham, North Carolina, that connects students with local businesses and institutions that provide learning opportunities, a network, and potential job prospects.
Create open data sets on topics and sectors relevant to health equity.
The city of Boston, for example, offers a data portal with data sets on hospital locations, healthy corner stores, and solar power use, among many other public health topics. Offering public access to these kinds of data sets can help build an understanding of local health equity issues and lead to developing community-based solutions to collective problems.
Create safe places for exercise and play with no barriers to entry.
Providing low-cost opportunities for physical activity can help improve overall community health. For three Saturdays in the summer, New York City's Summer Streets program closes stretches of city streets to traffic and opens them for walking, running, and biking. Some rural communities have started a similar program called Play Streets, which closes roads to create a safe place for children to play outside.
If you'd like to learn more in the healthcare field, you may consider a healthcare certificate, earning a master's in healthcare administration, or earning your master's in healthcare informatics.
< Nursing Career Paths [Infographic]