Travel Nurse Careers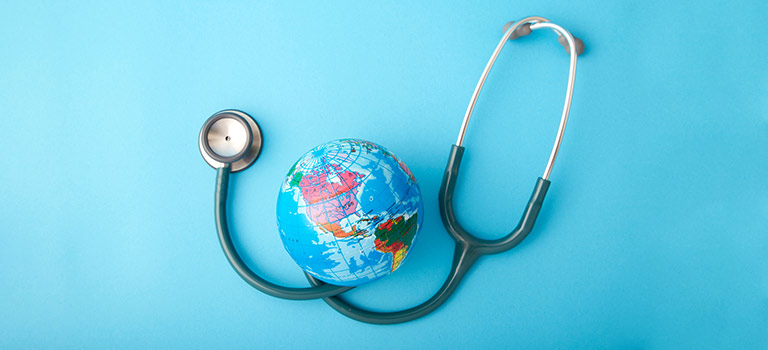 Carolina Araya has seen it before: Without warning, a hospital loses three nurses at once, leaving a hole in the facility's workforce that needs to be filled immediately.
"The nurses leave three weeks from now and the facility is in a full-blown panic," said Araya, president of the National Association of Travel Healthcare Organizations (NATHO).
With the proper preparation, travel nurses can step in on short notice to fill surprise staffing shortages at hospitals and other health care facilities. Travel nursing allows nurses to travel for weeks, months, or years, while offering flexibility in workplace environments and a chance for nurses to explore new cities and countries.
As the need for nurses grows, travel nurses will continue to help fill nursing shortages across the United States and beyond.
What Is a Travel Nurse?
Travel nurses take on temporary assignments to fill staffing shortages at health care facilities. They contract through medical staffing agencies to meet health care needs in a range of clinical settings, both domestically and abroad.
The growth in America's aging population, paired with a strong U.S. economy, is leading more people to seek health care, driving up the need for nurses.
"It just creates a bit of a perfect storm," Araya said.
There will be more registered nurse jobs available through 2022 than any other profession, according to the American Nursing Association. The field was expected to grow by 12 percent from 2018–2028, the U.S. Bureau of Labor Statistics reported.
There will be more registered nurse jobs available through 2022 than any other profession.
What Do Travel Nurses Do?
Travel nurses take on short-term assignments in hospitals, clinics, and other medical settings to help address staffing needs. Nurse shortages can stem from a variety of situations, ranging from employee strikes to natural disasters.
While the demand is currently strong for all types of traveling nurses, some specialties are always in high demand.
"Labor and labor and delivery are always in high demand, [as are] intensive care, progressive care, and telemetry. Those are probably on any given day the top five that are in demand," Araya said. "Even when the market contracts and demand gets lighter, those are the nurses that are needed."
Erik Mockelstrom, director of strategic partnerships for Triage, a nurse staffing agency, said he always recommends nurses become specialized in procedures or highly-specialized areas.
"If you have a chance to get trained in a procedural unit—the OR, the catheter lab, cardiology—and become very specialized in it, you're going to be very valuable and find an easier time getting jobs where you want them," he said.
Where Do Travel Nurses Work?
Travel nurses fill employment gaps in hospitals and other facilities with staffing shortages. Work settings can range from large teaching hospitals to underserved clinics to outpatient surgery centers.
Travel nurses can work both domestically and worldwide. Domestic assignments are often shorter.
"There are locations where everybody wants to go—that's obvious. One wants to go where there's a beach when it's winter time," Araya said. "But what a lot of folks don't realize is that understanding why you're traveling can kind of help you have the same experience in a location that maybe you weren't thinking about."
In the United States, California, Texas, New Jersey, and South Carolina are among the states projected to have the greatest need for registered nurses by 2030, according to a workforce analysis by the U.S. Department of Health and Human Services (PDF, 865KB).
Assignments in less desirable areas can help early-career travel nurses build the experience that will help them pursue positions in highly coveted destinations, Araya said.
"For those first time nurses, when they're kind of thinking about, 'This is it—I want to go to New York or I want to go to Hawaii,' it's really important to understand why you're wanting to go there so that you can get that experience you're looking for if you don't yet have enough experience to qualify for that job that every nurse is seeking," Araya said.
How To Become a Travel Nurse
Steps to become a travel nurse
Earn a nursing degree through an accredited program. Having a bachelor's of science in nursing (BSN) may help with placement at major teaching hospitals.
Take and pass the National Council Licensure Examination (NCLEX) to become a Licensed Practical Nurse (LPN) or Registered Nurse (RN).
Obtain licensure for the state in which you wish to practice. Consider a compact state license if you wish to ultimately practice in different states.
Obtain and maintain basic nursing certifications including CPR and Basic Life Support and additional certifications such as Advanced Cardiovascular Life Support and Pediatric Advanced Life Support.
Gain experience. Many travel nurse positions require at least two years of experience. Finding nurse managers who will provide job references is crucial for successful travel nurse portfolios, Araya said.
Decide where you want to travel and what types of work settings interest you. If you know you want to work in a state with a difficult licensing process, such as California or New York, start early (at least eight to 10 weeks ahead of your planned start date).
Research travel nurse agencies, and narrow your search to three to five agencies. Health care facilities work with medical staffing agencies to contract travel nurses, so find out which hospitals contract with each agency. There are hundreds of staffing agencies in the United States, and Araya suggests working with agencies certified by the Joint Commission. NATHO also keeps a list of agencies verified as trustworthy.
Apply to one or more travel nurse agency and connect with recruiters.
Choose a staffing agency and establish strong communication with your recruiter. "The first couple of assignments that a nurse takes are really formative and create that foundation of what the next … months, years they want to travel as a travel nurse are going to look like," Mockelstrom said. "Make sure you have a place that's supportive and traveler-friendly."
Have your recruiter submit your profile for nurse job openings that match your preferences. "Make sure you've made it very clear to them you do not want to be submitted to any job that you haven't given them permission to submit you to," Mockelstrom said.
Conduct phone interviews with hiring managers at health care facilities.
Negotiate and accept a contract with a travel nurse agency to secure an assignment. Different agencies offer different benefits and compensation packages. Understand your pay schedule, work hours, and other fine-print points in your contract. "It's really important to make sure that you review your contract very thoroughly," Araya said.
For international roles, secure the necessary work permits, documentation, sponsorship, and immunizations.
Attend minimal orientation and training for your assignment, and get to work.
Travel nurse requirements
SKILLS REQUIREMENTS
Most staffing agencies require travel nurses to complete skills checklists for areas in which they have professional experience.
These can include skill sets for the emergency department, primary care, dialysis, pediatrics, oncology, or labor and delivery. Nurses rate their experience levels for specific skills in areas such as cardiac monitoring, IV therapy, care of patients with certain conditions, medication administration, and neurology.
Obtain certifications for specialties.
Araya suggests paying attention to the types of credentials you gather.
"There are a lot of online credentials that are available, and a lot of those aren't accepted by [health care facilities]," Araya said. "So, it's pretty important to make sure that you're utilizing the right kind of provider for that because that could stop you from going to your assignment or postpone you."
Soft skills that can help travel nurses adjust quickly to new environments include flexibility, language skills for international positions, resilience, teamwork, and willingness to learn from core staff members.
"You're there to fill a need, … so it's your job to be flexible. It's your job to, in some cases, take on some of the stuff that the permanent nurses don't want to take on. That's why you're there," Araya said. "And chances are very good you're making a lot more money than the perm[anent] nurses, and…you've just got to think: You're getting paid for it, right? So, to a certain degree, that flexibility is really, really key."
How Much Do Traveling Nurses Make?
Compensation varies based on location, specialty, and experience, but travel nurse positions often pay more than staff positions. In addition to wages, travel nurses usually receive stipends for living expenses, such as housing, meals, and travel. Benefits are offered through staffing agencies, and each has a different package. Many benefits are tax-free, and some staffing agencies also offer bonuses.
Rapid-response postings and specialty fields often have higher wages.
The median annual pay for registered nurses was $71,730 in May 2018, and the median pay for nurse practitioners was $113,930 per year, according to the Bureau of Labor Statistics.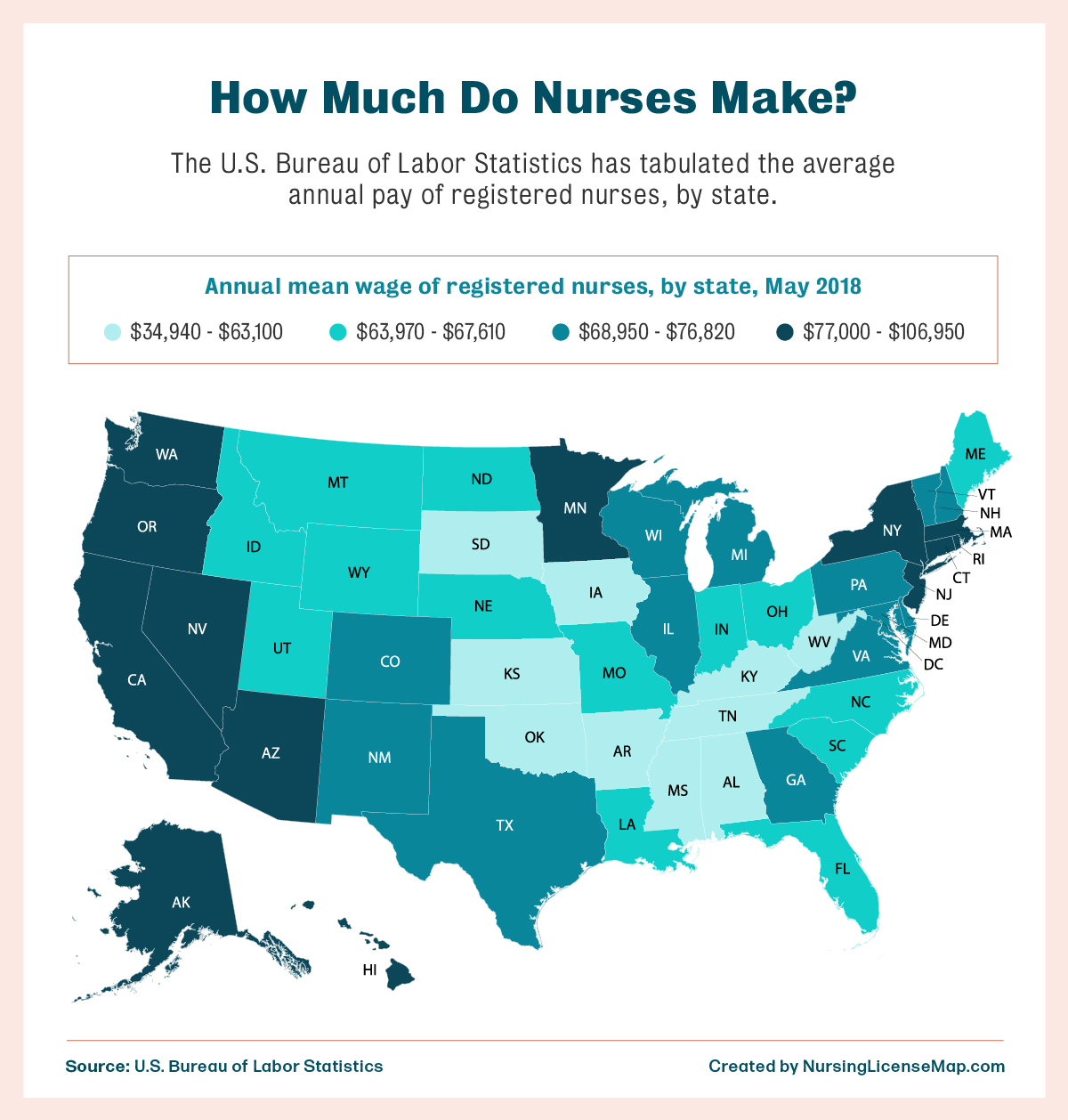 In May 2018, California, Hawaii, Washington, D.C., Massachusetts, and Oregon had the highest average wages for registered nurses. Registered nurse pay ranged between $91,000 and $106,000 for each of those states.
Go to a tabular version of the data at the bottom of the page.
Frequently Asked Questions About Travel Nursing
How long are travel nurse assignments?
Most domestic assignments start at 13 weeks, according to Mockelstrom. Many health care facilities are flexible on contracts and offer the ability to extend them. International assignments tend to be longer—usually one or two years.
How do I become an international travel nurse?
There are a few more steps to entering international travel nursing. International travel nurses must have a working knowledge of the language in the country in which they wish to work. Before traveling, travel nurses must secure licensure and certification in their host country, as well as work permits and other documentation needed to work abroad. While domestic assignments often have a short period of time before assignments begin, it can help international travel nurses to arrive early in their host country to learn more about the culture of the area in which they will be living and working.
Can travel nurses stay at their assignment beyond their contract?
Travel nurses can often extend their assignments. If travel nurses wish to stay permanently at the hospital to which they are assigned, they should check first for non-compete clauses in the contract with their nurse staffing agency.
Which travel nurse specialties are in demand?
The travel nurse market waxes and wanes in demand, but specialties that are often in demand regardless of market conditions include critical care, labor and delivery, neonatal and pediatric intensive care, medical-surgical, and operating room nurses.
Can travel nurses bring their families and/or pets?
Sometimes. Staffing agencies can often arrange for travel nurses to find housing with their families and/or pets. And travel nurses can independently seek housing with additional space for family members.
The following section includes tabular data from the graphic in the post.
Registered Nurse Average Pay by State, May 2018
| State | Annual mean wage |
| --- | --- |
| Alabama | $59,470 |
| Alaska | $89,310 |
| Arizona | $77,000 |
| Arkansas | $60,780 |
| California | $106,950 |
| Colorado | $74,240 |
| Connecticut | $81,220 |
| Delaware | $74,800 |
| District of Columbia | $92,350 |
| Florida | $66,210 |
| Georgia | $68,950 |
| Guam | $59,030 |
| Hawaii | $98,080 |
| Idaho | $67,110 |
| Illinois | $73,890 |
| Indiana | $64,860 |
| Iowa | $59,130 |
| Kansas | $61,030 |
| Kentucky | $63,100 |
| Louisiana | $63,970 |
| Maine | $67,610 |
| Maryland | $76,820 |
| Massachusetts | $92,140 |
| Michigan | $71,330 |
| Minnesota | $78,920 |
| Mississippi | $58,490 |
| Missouri | $65,130 |
| Montana | $67,450 |
| Nebraska | $64,470 |
| Nevada | $85,620 |
| New Hampshire | $72,760 |
| New Jersey | $82,750 |
| New Mexico | $71,730 |
| New York | $85,610 |
| North Carolina | $64,850 |
| North Dakota | $65,740 |
| Ohio | $66,820 |
| Oklahoma | $63,080 |
| Oregon | $91,080 |
| Pennsylvania | $70,390 |
| Puerto Rico | $34,940 |
| Rhode Island | $78,420 |
| South Carolina | $64,940 |
| South Dakota | $58,340 |
| Tennessee | $61,320 |
| Texas | $72,890 |
| Utah | $65,670 |
| Vermont | $69,160 |
| Virgin Islands | $61,550 |
| Virginia | $69,790 |
| Washington | $82,670 |
| West Virginia | $61,780 |
| Wisconsin | $71,470 |
| Wyoming | $67,360 |
Source: U.S. Bureau of Labor Statistics.